Bordeaux Montaigne University (UBM)
Presentation
Université Bordeaux Montaigne (UBM) is a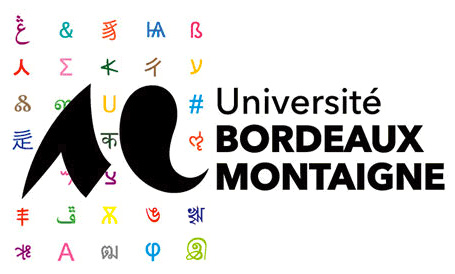 humanist university with a long tradition of international outreach. It brings together more than 17,000 students and 1,300 teachers and administrative staff for training and research in the arts, languages, humanities, and social sciences. It awards 138 national degrees in three training and research units (UFR) and two institutes: the University Institute of Technology (IUT) and the Institute of Journalism (IJBA). The UBM is also associated with the École supérieure du professorat et de l'éducation d'Aquitaine (ESPE) to provide training for future teachers.
The UBM welcomes more than 2,500 foreign students (of 120 different nationalities), half of whom are involved in exchange programs. 24 languages are taught within the institution.
The Erasmus+ program has contributed considerably to the strengthening of European cooperation, and the increasingly competitive context between universities makes internationalization a priority.
UBM's international strategy is built around several axes: strengthening institutional partnerships in strategic areas, promoting staff mobility that contributes to the internationalization of the educational offer and the various services that make up the institution, supporting student mobility with the objective(s) of developing cross-disciplinary, academic, linguistic and intercultural skills in order to improve their employability, and the university's participation in international networks and projects.
Through the actions organized within the framework of the Erasmus + program, Bordeaux Montaigne seeks to increase the quality and readability of its teaching and research in Europe, to remain in phase with European quality standards, to participate in the creation of a collaborative workspace to better promote its university specificities and to build convergent transnational projects, based on scientific coherence and the need to obtain significant results.
Role in the project
UBM is the leader of WP9, with the support of Hanoi University (P1), to manage and administer the communication and dissemination activities of the project products. Based on its experience as one of the most important French universities offering CIS and Journalism courses, UBM is in charge of defining a media policy based on three types of strategies for which it has the expertise and know-how: a communication strategy, a mutualization strategy and an editorialization strategy that work both internally and externally to the project.
The UBM is in charge of defining, among other things, the conditions for the implementation of the technological environment of the project (ENT, website, collaborative platform), validating the information to be disseminated as deliverables of the project (guides, strategy documents, etc.), accompanying the member universities of the project in improving their communication strategies, raising awareness of the key actors of the project on each new activity implemented during the course of the project.